Post by Bobinator on Feb 2, 2016 20:59:59 GMT -5
So, basically, this thread is about games that have a particular style that you appreciate. Doesn't have to apply to just art, really. Music, type of gameplay, it's all good.
Basically, a while back on Twitter, I was musing that while a lot of people really love Sega's "blue skies" period you'd find in a lot of their games, most notably their racing games, like so. Named such for the fact that these games have colorful, bright skylines that enhance the energetic mood that these sorts of games tend to have. You'll find these a lot in Sonic, too.
But for me? Lately, I've been starting to appreciate the style that Sega Technical Institute's stuff was really good with. Take, for example, Comix Zone & The Ooze.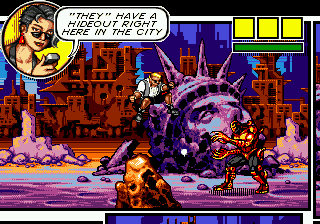 It's still a game published by Sega, but it's so drastically different in terms of style. They're dark, angry, and for lack of a better word, just so totally grungy. Pretty much the exact image 90's Sega of America was trying to cultivate, and I'd say they succeeded. Not that games from the Japanese branch from the same time like Ristar don't look fantastic in their own way, mind you, don't get me wrong. I'd say you'd kind of go on to see this style a lot more once the PS1 and onward hit, so by that era, it started being a lot less special. I'm not entirely sure what I'd say happened to it, now. Sure, we see plenty of games with darker colors and more muted aesthetics nowadays, but they kind of lack the fantastical elements a lot of the time that you'd see in the two games mentioned above. The difference, I'd say, is like going from an independent punk band to a cushy, multi-million selling punk band, if that makes any sense.
On a more modern example... I know I bring up this game a lot, and forgive me, blame the incoming PC release... I've been thinking about how much I appreciate Killer Instinct's own particular style, because I'd say it's a perfect example of the whole divide between Western and Japanese aesthetics, at least in terms of fighting games. I mean, you look at what's hot in the world of fighting games nowadays, like Guilty Gear or Street Fighter, and you see a lot of bright colors and a very... tame, for lack of a better word, atmosphere. Compare that to Killer Instinct, where the game's logo is made from rusted metal, the pallets are more muted, and everything just has this feel that it's just
dripping
with
smoldering anger.
You just wouldn't ever, ever get that from a Japanese fighter, for better or worse.
That said. What art styles are out there, either from a game, a developer, or a particular individual that you really appreciate? What do you want to see more of? What would you like to see less of?