Post by excelsior on May 3, 2021 10:50:30 GMT -5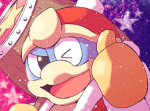 I don't have much experience in open world. I probably have some games in my backlog. BotW you still have a sense of being in a Zelda game. Horizon: Zero Dawn got plenty of ruined buildings as playgrounds.
Playing Horizon now, I wish I had BotW's glider or some way to rappel down cliffs anywhere. I find traveling on foot to not fun for that reason. Aside from elaborate cliffside hopping, your only way to climb properly is at the mercy of specific spots like in Uncharted.
Anyways, would be interested in playing open world games like the ones Nintendo make. I like Horizon in other ways and intend on finishing the game of course.
That Pokemon game coming soon got me interested
I think I have a similar opinion on Horizon. I wouldn't even say the open world just adds nothing but actively detracts, and honestly was the game I had in mind with some of my negatives in the OP. There's an open world, but it doesn't seem to have much thought about the layout, everything just repeats and has a thrown together kind of feel. Further to that there is nearly no interactivity with the world at all - the only thing that come to mind are the SonyLedgeGrabs™. Generally, I'd consider it an oversized combat arena.
Also, although the story is much praised, the way it is communicated to the player is often poor, and seems to have been impacted by the open setting. As we progress we find rooms with multiple audio logs in them which we are expected to listen to before moving on, so as a player I'm just stood there, waiting to select the next one, not engaging with the game in any way. Why didn't they make a cutscene then? Or find any other way of telling the story where I feel actively part of the world? It is as though they played Bioshock or similar and thought they could replicate the audio logs without consideration of player involvement.
But like you say, there are good parts to the game. The combat for instance, is excellent, which means I am generally entertained since that's really the focus. And of course the enemy design is interesting. Just a shame they opted for an open world when I expect as a linear game (also scrap the RPG lite elements) it would have been top notch.