Myst
Jul 4, 2010 17:57:31 GMT -5
Post by Garamoth on Jul 4, 2010 17:57:31 GMT -5
Hey thanks Fabien, I appreciate the positive comment. I don't use expressions like "I think, I feel, I consider" unless I want to emphasize that something is my opinion. Those expressions add unnecessary weight to a sentence and generally weaken your position when you're trying to state something. And yeah, I guess you have to trust your readers to an extent. Everything in a text is always the author's opinion, unless he's quoting someone else.
In hindsight, I think the original Myst deserves a bit more criticism, but it's a balancing act mixing description and criticism without drowning the reader.
As for the rest Ryochan's reply, well, thanks for your input, but I'm just not going to go back and forth on the same points.
FAKE EDIT: Oh yeah, I forgot to respond to Weasel's post: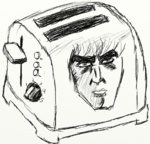 In the Mechanical Age, there's a "Fortress Rotation Simulator" that you mess with - you can goof around with a holographic image of the fortress, but the trick there is that every time you stop the fortress, it plays a different sound effect based on which direction it's facing. If you make note of these sounds, you'll come across them again later in the Selenetic Age when you're going through the maze - every time the cart stops, it'll play a sound through a speaker. If you point the cart in the direction the sound corresponds to and then press Forward, you'll make it to the end of the maze after doing this several times (at some point the speaker will play two of the sounds together - this means you'll need to go between those directions, i.e. northwest if you hear both the North and the West sounds together). Takes a keen ear.
Yeah, that's something I just realized when revisiting the game for the article. According to my very official handwritten notes, the sound for North is
pink
, East is
drwij
, South is
bonk
and West is
driwwww
. So if the sub goes
pinkdrwij
, that means you have to go northeast.
Sound puzzles deserve a conversation of their own. Some people are just allergic to them. I used to be, but I think my musical ear is getting better. Maybe Patapon forced my brain to listen better.