Post by Feynman on Sept 8, 2012 22:47:28 GMT -5
AND SO IT BEGINS. But first, I need a name for my hero! Hmmm...
I'm really hoping I get some amusing lines from NPCs out of this.
Crystalis is an amazing game, but there is a lot of annoying shit to deal with... which I intend to list as I play through the game!
Annoying shit #1:
Since I'm only level 1, I can't hurt this monster. Every monster has a level requirement needed to damage it, which is super annoying since it's so easy to fall behind the level curve in Crystalis. Forced experience point grinding sucks!
The first boss is a total pushover, but I still managed to die to him. I landed the final blow, assuming the bats he summoned would disappear. They did not. It just goes to show that bats are assholes no matter what game you're playing.
REVENGE IS MINE!
Annoying shit #2: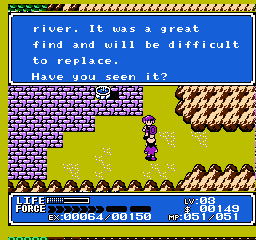 Everybody who has ever played Crystalis remembers this part. You need to find this guy's statue to get a key item, but finding it is an absolute nightmare.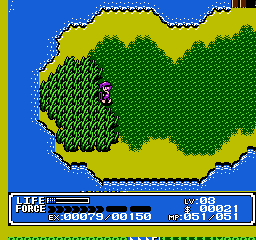 The statue is right here. No, really!
See? How the developers expect you to find that if you don't already know it's there is a mystery to me. There's no indication the statue is there whatsoever. The only reason I know about it is that I've played the game before, and the first time I played this game I needed to use Nintendo Power to pass that part.
Annoying shit #3:
This guy challenges you to a button mashing contest in order to learn the telepathy spell. Unfortunately, the contest is rigged. You cannot win the first two fights against him, and only on your third attempt is it possible to win. That makes it very easy for a player to mistakenly assume they can't beat him until later in the game. You need this spell to progress, which makes this scene extremely poor design.
Annoying shit #4:
This screen may not look annoying, but the right hand side of the screen is the entrance to the swamp. You need to equip the Gas Mask in order to avoid taking constant damage, and if you don't know the swamp is there ahead of time, you will probably not have the mask equipped, and lose half your health bar before you realize what's happening.
Annoying shit #5:
That enemy I'm attacking? It's not taking damage. Certain monsters can only be harmed by certain weapons. This isn't necessarily a bad mechanic, but switching weapons in Crystalis is a tremendous pain in the ass. Not only do you have to open up your menu to change swords, but if you want access to more powerful sword skills, you need to change your orb/bracelet as well. In a fast-paced game like Crystalis, it really kills the pacing of the game.
Ha! I
knew
I'd get some great lines from using that name!