Post by lightingman on Jun 27, 2013 2:34:27 GMT -5
A NEW AUCTION HAS BEEN DISCOVERED -It's been bought we will soon have the game!
page9.auctions.yahoo.co.jp/jp/auction/k174256431
SIGN THIS PLEASE !!!!
www.petitionbuzz.com/petitions/garage
READ THIS It's a current summeray of 4chan's /vr/'s search for this game and roly poly.
docs.google.com/document/d/1tY1XzqE8mSWEleEvHO1JfMKWyJIycu1v9Auvccix1vE/edit?pli=1
Now back to your scheduled post
-----------------------------------------------
www.youtube.com/watch?v=wn-UjprH10c
In my best words to describe GARAGE Bad Dream Adventure would be.
Surreal
Horrific
Disturbing
Claustrophobic
and Alone.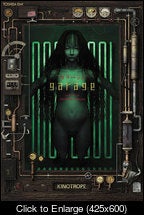 【STAFF】
_____________
[DIRECTOR]
TOMOMI SAKUBA
[PRODUCER]
MASAHIRO IKUTA
[Co-PRODUCER]
AKIHIKO KAWAI
[PROGRAM]
AKIYA HAYASHI
[3D GRAPHICS]
GENGO ITO
HIROKI WATANABE
[MUSIC]
TOMONORI TANAKA
_____________
The current site the original official site is gone unless someone could wayback machine it.
www.t-s-k-b.com/garage_private_edition/
Garage is a japanese pc adventure game where you take the role of a strange on rails robotic organism that explores a mechanical GARAGE like world. The basic gameplay seems resource oriented as the robot has two bars.
Interacting with npcs engages some sort of item shop. The game is all pre-rendered and digitized and gives a real 90's feel to it. The music is very solemn and strange. LSD has a similar soundtrack ambiance wise.
I really recommend exploring the little site it's got many pictures and odd flash pages it brings up.
The game had a limited run similar to the eastern mind game and it's oh so sought after equal Chu-teng or chutten.
www.t-s-k-b.com/x/mt-search.cgi?tag=garage&blog_id=1
I discovered the creators blog. This link directs you to all his post on the GARAGE game the related art and his shipping of the Private editions (deluxe sets with little books and such).
His main blog is all about LAVES like wood laves metal laves. His really big into technical stuff this shows in the game directly.
part 1 gameplay
www.nicovideo.jp/watch/sm13296952
part 2
www.nicovideo.jp/watch/sm13313248
I am asking you other user to help me find more info if anyone understands Japanese that'd be amazing.
Also Cutten Chu-tem Osamu Sato's lost game is getting tracked down along side garage by a group of fans hopefully something will come of it and someone can play it and write an article.
Thanks and let's discover more obscure pc adventure games. TALLY HO TO DISCOVERY!
Recently a copy is up for sale sadly the user is asking 561 dollars for it.
aucview.aucfan.com/yahoo/h177049731/