Post by Revolver Ocelot on Sept 29, 2007 1:43:56 GMT -5
It's too bad this is just a gaming site because there's a lot of people here who like anime as well. So I've decided to create a thread where we can share our opinions on anime. This is not like the "Anime" thread, as this is for full-length reviews. So people, if you have any anime reviews to post, post them here!
Review Index
801 T.T.S Airbats
Baccano!
Battle Doll Angelic Layer
Berserk
Blue Submarine No.6
Carried by the Wind: Tsukikage Ran
Castle in the Sky
Claymore
Cowboy Bebop
Cromartie High School
De:Vadasy
Dragon Ball Z the Movie: Dead Zone
Elfen Lied
Fafner of the Azure: Dead Aggressor
Fafner of the Azure: Right of Left
Fate/stay night
Fullmetal Alchemist
Fullmetal Alchemist the Movie: Conquerer of Shamballa
Ghost in the Shell
Ghost in the Shell 2: Innocence
Giniro no Olynssis: Tokito
Grave of the Fireflies
Gunbuster
Gunbuster 2
Gundam Evolve 1: RX-78
Gungrave
Gunparade March
Gun×Sword
Hades Project Zeorymer
Hellsing
Heroic Age
Infinite Ryvius
Jubei-chan the Ninja Girl: Secret of the Lovely Eyepatch
Mars Daybreak
Martian Successor Nadesico
Martian Successor Nadesico the Motion Picture: Prince of Darkness
Megazone 23
Megazone 23 Part II
Megazone 23 Part III
Mobile Suit Gundam MS igLoo: The Hidden One-Year War
Mobile Suit Gundam MS igLoo: Apocalypse 0079
Mobile Suit Gundam
Mobile Suit Gundam 08th MS Team
Mobile Suit Gundam 0080: War in the Pocket
Mobile Suit Gundam 0083: Stardust Memory
Mobile Suit Gundam ZZ
NEW!!!
Mobile Suit Zeta Gundam
Nadia: The Secret of Blue Water
Nausicaä of the Valley of the Wind
Neo Ranga
Outlaw Star
Planetes
RahXephon
Record of Lodoss War
Record of Lodoss War: Chronicles of the Heroic Knight
s-CRY-ed
Samurai 7
Scrapped Princess
Slayers, The
Slayers NEXT, The
Space Runaway Ideon
Star Knight Tekkaman Blade
Star Knight Tekkaman Blade Episode 13': Twin Blood
Star Knight Tekkaman Blade: Burning Clock
Star Knight Tekkaman Blade: Missing Link
Super Dimension Fortress Macross
Sword of the Stranger
Tekkaman Blade II
Tenchi Muyo! Ryo Oh Ki
Tenchi Muyo! Ryo Oh Ki 2
Tenchi Muyo! Ryo Oh Ki 3
Tenchi Universe
Tengen Toppa Gurren Lagann
Tengen Toppa Gurren Lagann: My Gurren is Shining!!
Tenjho Tenge
Trigun
Trinity Blood
Voices of a Distant Star
X
[/b]I'll kick things off with a classic.
Dragon Ball Z the Movie: Dead Zone

Studio: Toei

Director: Daisuke Nishio
Writer: Akira Toriyama
Producer: Kozo Morishima
Composer: Shunsuke Kikuchi
Designer: Akira Toriyama

Released: July 15th, 1989
Genre: Action, Martial Arts
Type: Theatrical Movie
Runtime: 41 Minutes
US License: Geneon (1997 release, as Pioneer)/FUNimation (all others)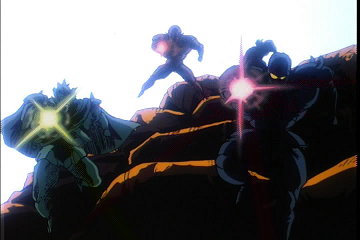 If you cannot say anything good about
Dragon Ball
[/i], you can, at the very least, say that Akira Toriyama has created one of the most vast, mystical, and expansive contemporary mythologies ever to come out of Japan. The universe he has created is so rich with history, lovable characters, and intense conflicts that it is almost impossible not to respect his work.
It all began with
Dragon Ball
[/i], the light-hearted, fun, entertaining, but still satisfyingly violent classic. However, hot on the heels of
Dragon Ball
[/i]'s end, Toriyama decided to continue the story with a slightly (very slightly) more mature take on the universe he created with
Dragon Ball Z
[/i]. This new saga kicks off with the short film,
Dead Zone
[/i] (or as it was simply called upon release, "Dragon Ball Z"). Though being released after the 11th episode of the TV series,
Dead Zone
[/i] is essentially an extended first episode of the series, and my, what a great introduction it is.
Dead Zone
[/i] begins as so many stories do, peacefully. Goku, now a grown up, living with his wife Chi-chi, is out hunting in the wilderness one day, while Chi-chi and their son Gohan are visited by Chi-chi's father, Ox King (or Gyumao, if you prefer). However, that is not the only visit they get today. Their family gathering is cut short by the arrival of a gang of Namekian thugs who are looking for the Dragon Balls, one of which Gohan wears on top of his hat. The trio of Namekians, who have already taken care of the powerful Piccolo earlier with little trouble, make short work of Ox King and Chi-chi, and make off with little Gohan.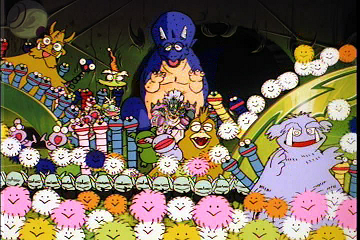 When Goku arrives on the scene, he immediately flies off to investigate, and with a little help from Bulma, he locates Gohan. From there, you can pretty much guess what happens. Insults are tossed, asses are kicked, and things explode. What is interesting about this movie is that it provides a deeper look into Kami, and we actually get to see him in action for the first time in a long while. We also get to see Piccolo, who has always been a favorite of mine, still in his prime, which is going to become a rarity soon as he has shoved aside in favor of Saiya-jins like Vegeta and Trunks.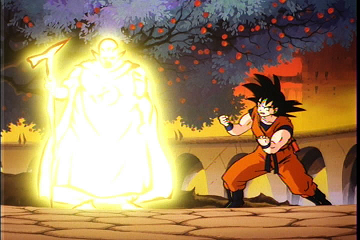 By 1989, anime movies were starting to look pretty slick, with high-quality flicks out there like
Akira
[/i],
Kiki's Delivery Service
[/i], and many others. But
Dead Zone
[/i] does not try to be too grandiose. It flows right into the TV show, so it needs to synch up well, and while it does look better and smoother than any episode of Dragon Ball Z, it is not so improved that it does not fit with the rest of the saga. The most telling areas of
Dead Zone
[/i]'s improved animation are in its fight scenes, which are some of the most intense to be seen yet. The animation is incredibly smooth and the choreography is top notch. And yes,
Dragon Ball Z
[/i] actually had choreography before all the fights became huge beam-tossing matches.
Carrying the movie along is an unusually extravagant soundtrack by
Dragon Ball
[/i] veteran Shunsuke Kikuchi, whose work in the series past was usually dismissible background music. Now, the score triumphantly breaks through the action with powerful, beat-heavy orchestrations, carrying the fight scenes along and intensifying them. Conversely, the sound is exactly what you'd expect from a
Dragon Ball
[/i] title, using lots of stock effects and the same veteran voice actors we know and love.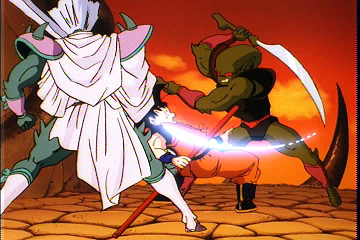 In all,
Dead Zone
[/i] is highly entertaining, and assuming you are a fan of the
Dragon Ball
[/i] saga, it is full of lovable and endearing characters. You are obviously going to get a lot more out of the film if you are already an established fan, but even if you are not,
Dead Zone
[/i] is surprisingly accessible, especially considering that even if you have never seen
Dragon Ball
[/i] or
Dragon Ball Z
[/i], merely being an anime fan means you are at least familiar with it. Definitely watch this one, it is a classic.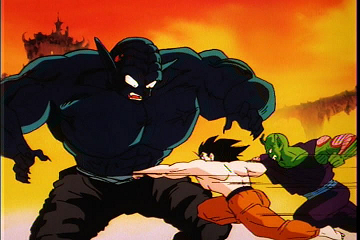 One last bit before I cap this review off. Like a lot of
Dragon Ball Z
[/i] products, there are two versions of
Dead Zone
[/i]. There is the original Pioneer dub and the more recent FUNimation dub. FUNimation's Dragon Ball dubs are pretty horrible, and I have been known to endlessly support the original Pioneer version when it comes to the dub as it uses veteran Ocean Group actors like Paul Dobson, Scott McNeil and Saffron Henderson. If you want to watch the original Japanese version though, it does not really matter which you go with, as it is included in both DVD releases. Unlike most
Dragon Ball Z
[/i] products, the English version uses the same music as the Japanese version, thankfully.
- Shalashashka

Story: C
Animation: B
Design: B
Music: S
Direction: A
Overall: B
Sub or Dub: Sub

OP: "CHA-LA HEAD-CHA-LA" by Hironobu Kageyama
Yep. Same as the TV series. But it is such a lovable opening that I can let that slide. SPARKING!
B

ED: "Detekoi Tobikiri ZENKAI Power!" by Naruhisa Arakawa
Ditto.
B-
Interested in this anime? Buy it
here!